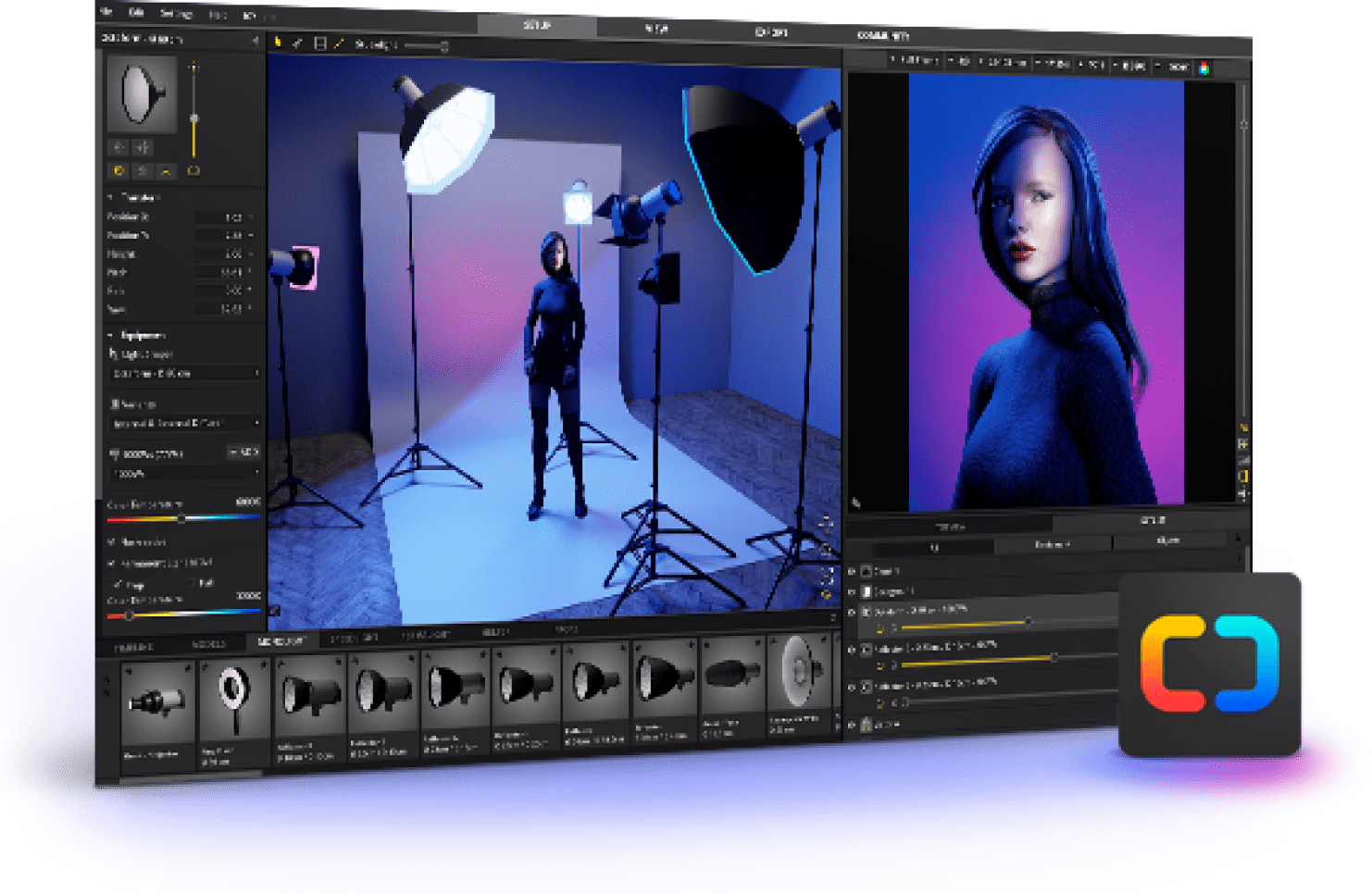 set.a.light 3D V 2.5
Better than ever before!
set.a.light 3D revolutionizes the way modern photographers and filmmakers plan their setups. It gives creative people the opportunity to express themselves faster, bring their ideas to life and saves them from guessing. From a simple portrait shoot to a complex photo production – it's all possible. That's why both beginners and industry leaders love set.a.light 3D.
Dive into a world full of possibilities and push your projects further. It has never been so easy to achieve breathtaking results. It's for you – for cinematography and photography!


Better together:
SET.A.LIGHT 3D COMMUNITY
You' re looking for inspiration for your next shooting or have been wondering for a long time how other creatives light their setups? Your Google search has taken you hours and you still haven't found the solution? We have created a place that solves these problems through the power of community. The community connects all set.a.light 3D users and helps you to get the best out of your work.
By publishing your light setups on the community platform, you can get feedback from photographers around the world or just give insights into your work and present it in seconds. Find like-minded people and improve your skills and understanding of light. Everything is always just a click away and directly integrated into set.a.light 3D!
The community is now also directly accessible for our users on the web.
You can find the login HERE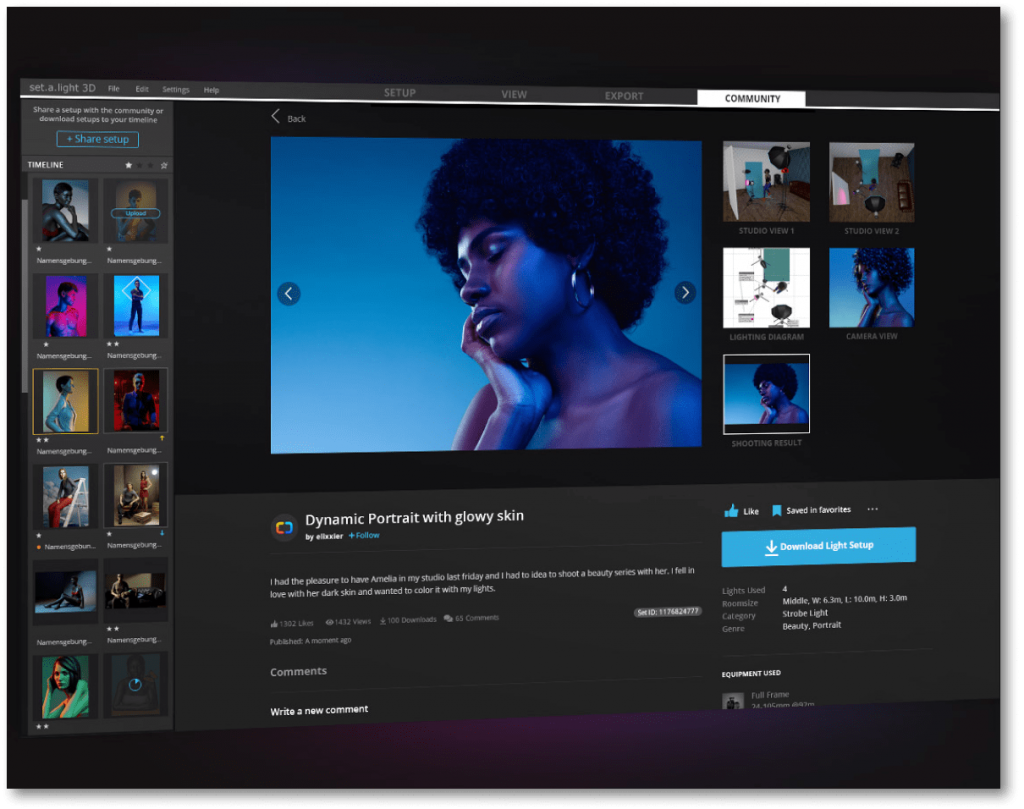 Learn new techniques and get
surprising insights
Stop guessing, start exploring! Get to know how other photographers built their lighting setups and prepare their photoshoots. Learn which equipment they use and why. Don`t be shy to ask any question. It`s about learning, experimenting and sharing knowledge with each other.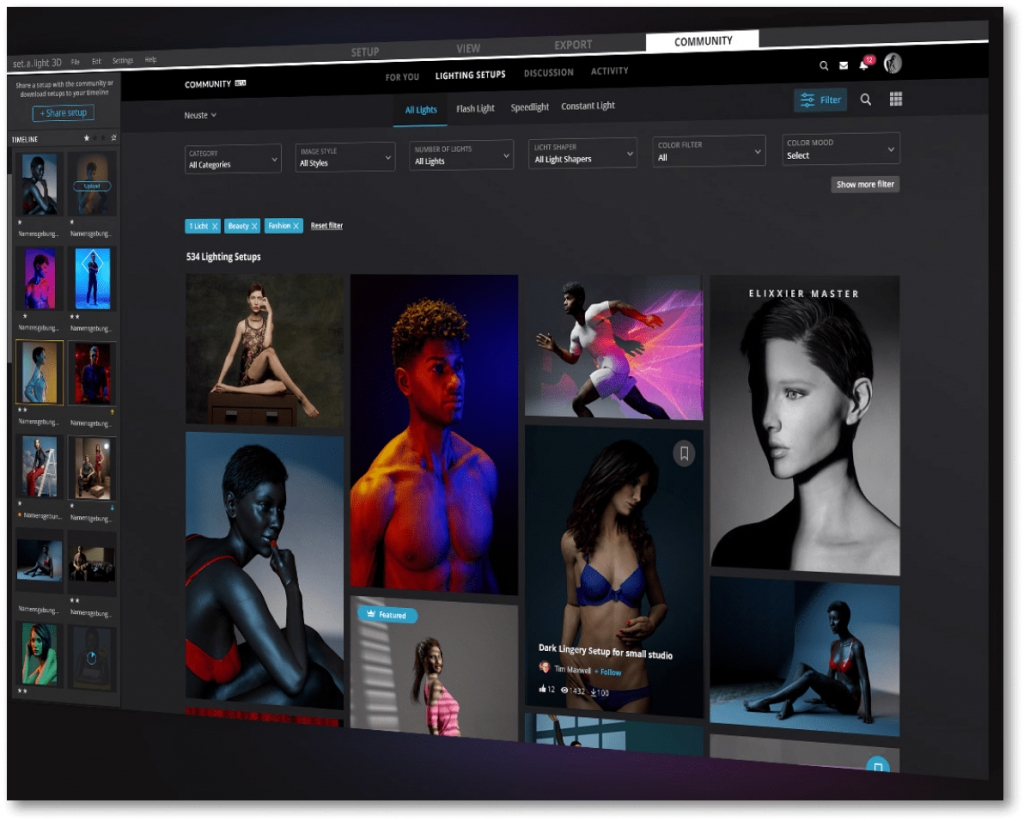 Showcase your work and find inspiration
Get access to a growing archive of lighting setups and tutorials from photographers, filmmakers and creatives from all around the world. Showcase your work, get feedback, ask for advice and discuss or just look for inspiration.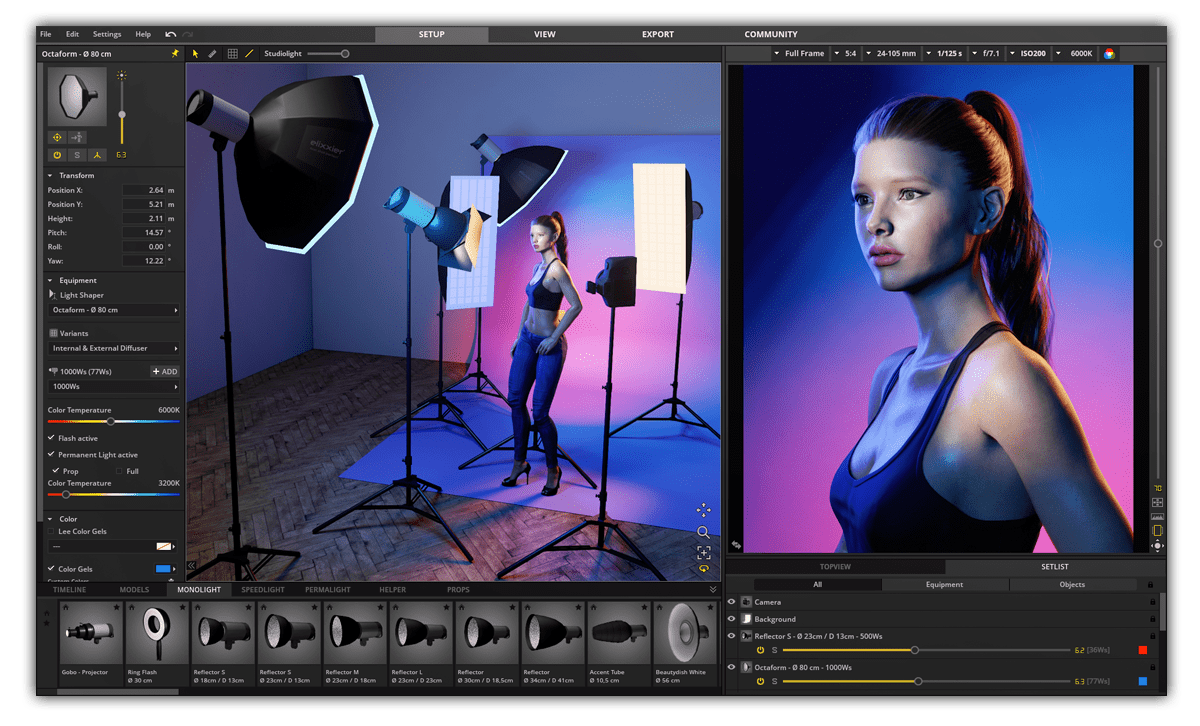 All of your equipment is packed into one single program
Good pictures often depend on your lighting and the precise work on it. But you're often missing the time to set up everything calmly without any stress or nervousness.
set.a.light 3D simulates a virtual photo studio with all the details and equipment you need for creating your preferable light settings. You're finally able to experiment around try your ideas even before the shooting starts and without unnecessarily boring your model. Just do that comfortably at home!
Create extraordinary light setups in seconds and get amazing results!

Create a light setup
Set up your lighting in the virtual studio and simulate your results. There are no borders for your creativity!

Export a set plan
Export a plan with all the necessary details for your equipment and technical settings. And then, start making your way to your location!

Start your shooting
Set up your equipment precisely with your new set plan. Now you have a lot of time to shoot with your model!
What users say about set.a.light 3D
"Ive had chance to spend a couple of hours with set.a.light 3D V2 and I have to say it seems pretty damn incredible! Ive thrown some very complicated lighting at it and I can confirm that its handled all of the lighting as it would in the real world. Very impressive indeed."

Jake Hicks | jakehicksphotography.com

"I'm trying out the demo now. It's so much fun! And what better way is there to learn something, when it's even fun? This will really help me to grow as a photographer. elixxier, shut up and take my money!!"

"A huge compliment for your software. In using your software for half a day I've learned way more about lighting and flashes then in lots of books for hundreds of euros."

"I was able to test an early version of the new V2 and the difference to the old V1 is huge. Of course, the display of the new models is way more realistic – very realistic indeed, but what flashes me way more is the free movement of all (!) bodyparts. set.a.light 3D takes one more big step towards real life and makes it possible to visualize photos – long before you've taken a step into the studio. I'm amazed!"

Stefan Kohler von rawexchange.de

"I've been using the studio version for some time now and can only tell good things about it. I've learned a lot. I now show a sample picture to my model, so she knows what to do – until she's ready with all of her stuff, I built up the light setup and we're able to shoot beautiful pictures for soooo much longer than in the past 🙂 All of the strenuous trying out on set is gone. Thumbs up"

"I've been using this for a couple of years now and totally agree with Joe – it's fantastic for someone like me who doesn't shoot that often – and as I'm usually hiring venue, MUA, model and buying outfits, accessories etc, I need to be fairly sure my lighting ideas are going to work before I turn up with a truck load of gear 🙂 set.a.light allows me to test out various sizes and shapes of light beforehand and the PDF sheets look really good and give the rest of the crew confidence in my ability to make it work :)"

Owen Lloyd | via Youtube channel of Joe Edelman

"I have had this software for about 2 years now. It is really awesome. I use it for lighting diagrams and experimenting with new lighting setups that I want to try. I save every portrait setup as a project so I can go back and be remind of my various setups. Oh yah, they give free updates for life."

Paul Anders | via Youtube channel of Joe Edelman

"I'm often the person my creative mates come to when they have questions about light…
I've been fortunate enough to work in the photo/ film industry for some pretty credible lighting brands.(humble brag #dickhead but helps sell my point )
I've gained a lot of technical and practical experience on set, practicing on set isn't a wise move so the secret to strengthening my skills is a piece of software called SET A LIGHT 3D.
I plan every shoot with this and can understand what my lighting is doing before I get on set!
If you work with light… invest in this before you invest in anything else!"

Luke Curtis | UK & EU Marketing Manager at Nanlite

"Wow, I didn't know something like this exists – I bought the set-a-light 3D full version – and am so happy with that!! Now I can learn and try a lot myself before going to setup the real modeling! It was pretty frustrating for me to try the very basic stuff"

bearinch | via Youtube channel of Tony & Chelsea Northrup

set.a.light 3D V2.5 – the dawn of a new era
Even more realistic, better light calculation new innovative features and a fully overhauled user interface. Plus more possibilities and flexibility, a greatly improved workflow and higher work efficiency.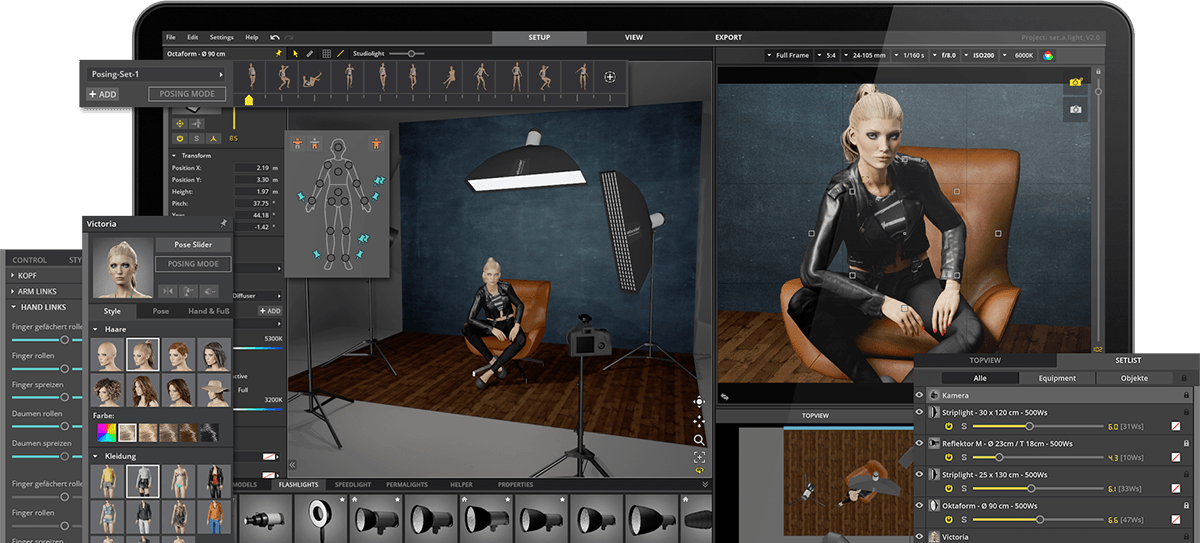 High-resolution and customizable models
One of the most important points in the development have been the models. The avatars look extremely real and harmonize perfectly with the new light calculation. Hait, make-up and clothing is changeable.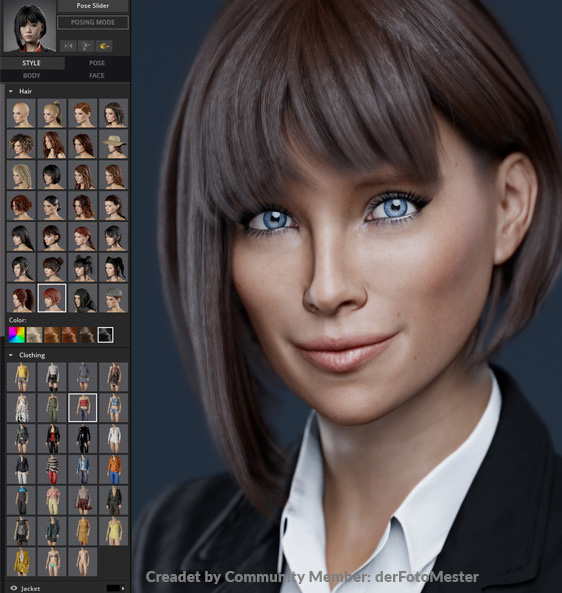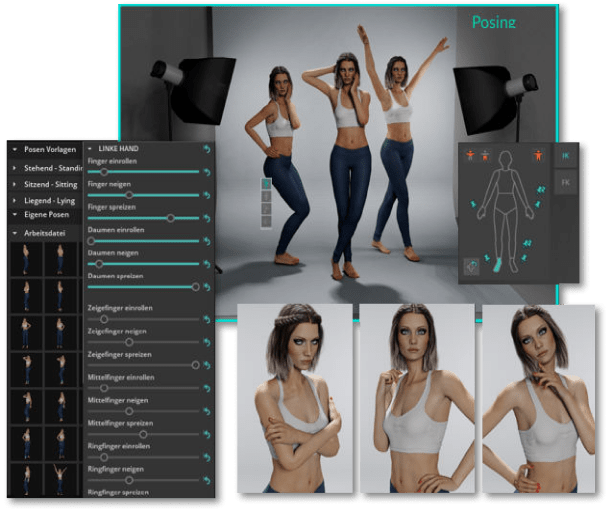 Full flexibility with the new posing tool
Definitely one of the features users have been waiting for the most: From their individual fingers up to their head and down to the feet – everything about our models can be moved! Make sure to save the positions for later! Even their eyes will be able to face the light shaper or the camera with just one click!
Praised by the press and recommended by professionals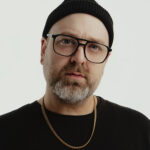 I cannot recommend Set.a.Light enough for photographers of all skill levels. Whether trying out new lighting techniques or perfecting your existing skills, this program is essential for sharpening your skills.
Not only is Set.a.Light perfect for storyboarding and visualizing your lighting setups, but it also takes the guesswork out of lighting for clients. Simulating various lighting scenarios allows me to show my clients exactly what to expect on the day of the shoot. This gives me 100% confidence when showing up on set, knowing I can deliver the lighting setups I promised.
It's a game-changer for pre-lighting, and it's made a massive difference in my workflow.

Ive had chance to spend a couple of hours with set.a.light 3D V2 and I have to say it seems pretty damn incredible! Ive thrown some very complicated lighting at it and I can confirm that its handled all of the lighting as it would in the real world. Very impressive indeed!

The software gives you the possibility of creating different sets and comparing them. Playing around virtually with light and its sources and understanding its effect becomes absolutely easy. It's the ideal tool to examine and check my ideas in different lighting situations without using my studio equipment.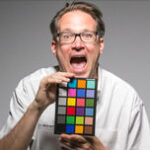 I'm in Love! I can honestly recommend this software to you without any reservations. I myself use this software for educational purposes, illustrations as you can find them in this book and whenever I am planning a new idea for the next studio shoot. I really want to thank the elixxier-team for this piece of software as it greatly enables me to create visual exploration and expanded illustration for my audience!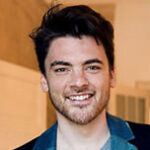 With set.a.light 3D, I can explain light structures particularly easily and even show the lighting effect directly. For my assistants, it is now easier to implement my wishes specifically with the set plan and to set up the light set in the studio very quickly.
For amateurs photographers, set.a.light 3D is definitely an ingenious tool to understand the effects of light even without a studio and to reduce the nervousness before the real shoot.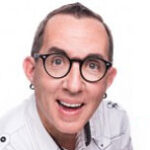 set.a.light 3D is without a doubt the most incredible software tool for learning how to light. You can preplan your setups using Monolights or speedlights and loads of modifiers. You can save your arrangements and print them to provide to clients or keep as a reference for future use. set.a.light 3D really is the ultimate teaching tool and is excellent for classroom and workshop settings.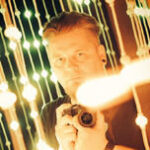 set.a.light.3D is a great program and ideally complements my workflow for preparing and planning a shoot. It fits in well with my workshops and allows me to plan the sets, to try them out and to pass them on to my participants. Especially as a beginner you have the opportunity to use the time optimally in the rented studio with this software. And there is more time for the essentials – the communication with the model and the time to take pictures.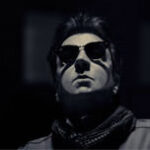 set.a.light 3D STUDIO is the ideal tool for besser understanding lightning and its effect. Lighting sets can be preplanned realistically and are easily implementable in the studio. set.a.light 3D is also a very useful learning tool for use in workshops.
Realtime light simulation & real characteristics
For its simulation, set.a.light 3D uses special real-light data developed by us, that emulate the radiation behavior through complex algorithms – in real time! That's why you can transfer your setup into reality one by one. This is the only real-time cinematography and photography simulator with real light simulation on the market!

Flashes and speedlights
In set.a.light 3D there are more than 50 hard and soft light shapers (softboxes, reflectors, beauty dish, ….) that can be used with or without a honeycomb grid ss etc. You can test your planned light setups and experiment around with the new settings. The output of all flashes can be regulated they may be used as a modelling light as well. Speedlights are available as well.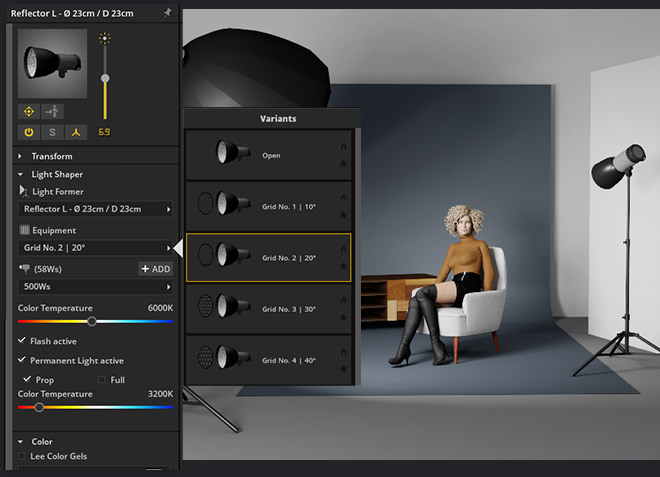 Fantastic options with continuous light and practicals
With the newly implemented shutter speed mixtures of continuous light and flash lught can be used. It didn't matter earlier whether their options were in 1/125 or 0,5 seconds – nothing changed in the studio. With the shutter speed all of that makes a difference now!
Now set.a.light 3D is also a cinematography simulator! The feedback from Cinematographers, Gaffers and DPs is incredible! Thank you! Previsualize (Previz) your film production and save a lot of money!
All the lights are real! What you plan in the simulation, you can realize directly on the film set!
Real time continuous light simulation & real characteristics
For the planning of a filmproduction and the setdesign of each scene, lighting is of central importance. So that the lighting settings and the lighting design can be adopted directly on the film set, we have also extended our unique real light simulation for the continuous lights and practicals. We have researched for a long time to make this possible! We worked with cinematographers and Gaffer to find the best solutions.
We are now proud to offer the best prelighting solution for the film industry.

Discover gobos for exciting effects on the background or a dramatic lighting on the model
With the new gobos users can create great light and background effects without having to change the location. Create own presets, import them and use them for your creative lighting.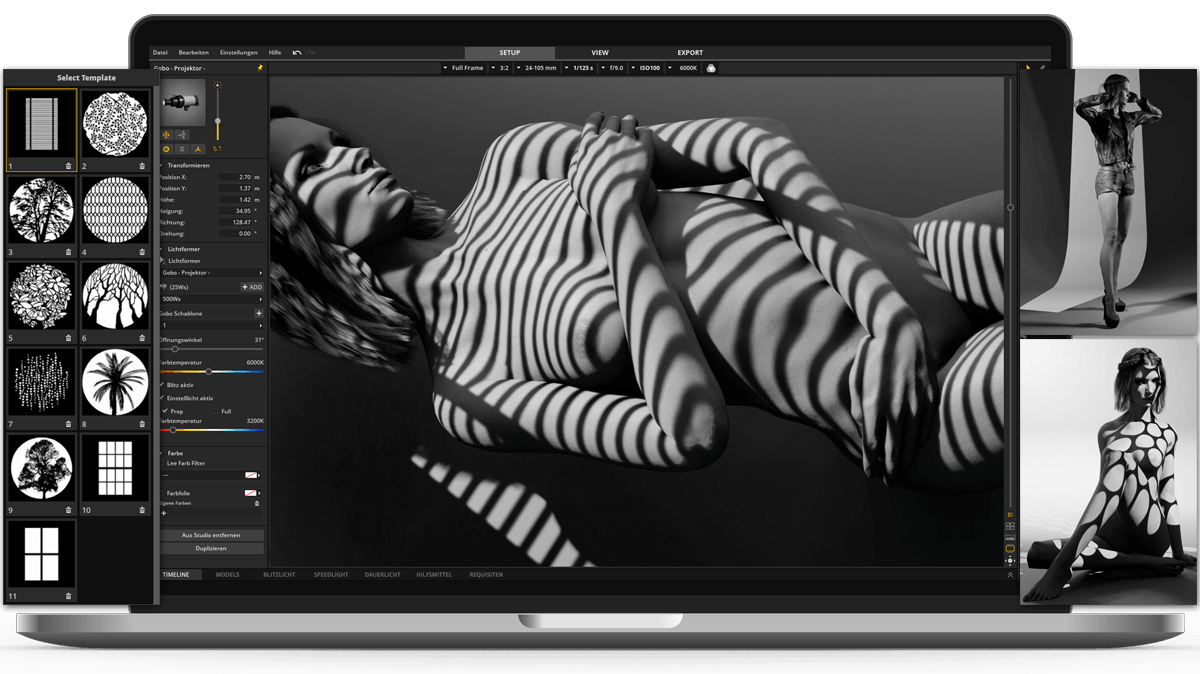 A picture says more than a thousand words
The virtual camera simulates your results in real-time. Set the crop-factor, the format and the focal length. Decide, whether you want to use a zoom lens or not. Over 25 lenses are ready to get used. set.a.light 3D provides an incredibly detailed calculation, even with the depth of field. You can directly see over- or underexposure in the histogram.
Simply better photography and documentation with the setplan
This one's something for all of you but especially the ones that have own social media sites/pages or tend to show customers a lot of their work. All of your setups can be exported as a printable PDF or JPG. The plan includes everything you need to know to build up your setups on location. This leads to less moving around and more time with your model – a good base for great shots and successful shootings. Individualize the setplan exports by having your own logo on it or adding a title and notes!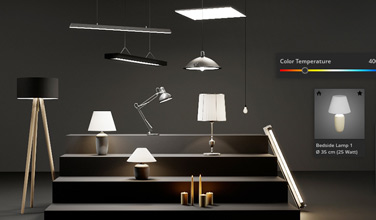 Practicals
We have added a whole range of new continuous lights. Among other things, you'll continue to find Aputure lights and light shapers in the Studio Library. And as we know that light bulbs, bedside lamps, candles etc. are an important part of many shoots and flimsets, we have of course integrated these "Practicals" into set.a.light 3D as well.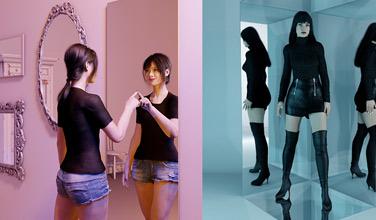 Mirror
Our new mirror feature allows you to add a mirror to the scene and see how it will interact with your lighting setup. You can also reflect light via the mirror to create extraordinary effects.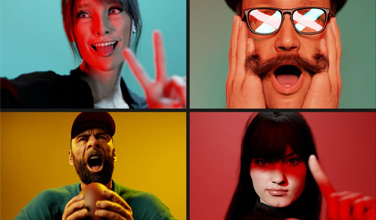 Facial expressions
Finally: Facial expressions are here! Now you can customize your model's facial expression yourself! You can see if your lighting idea really works with a smile or if you need something a bit more moody. You can freely customize and save any expression.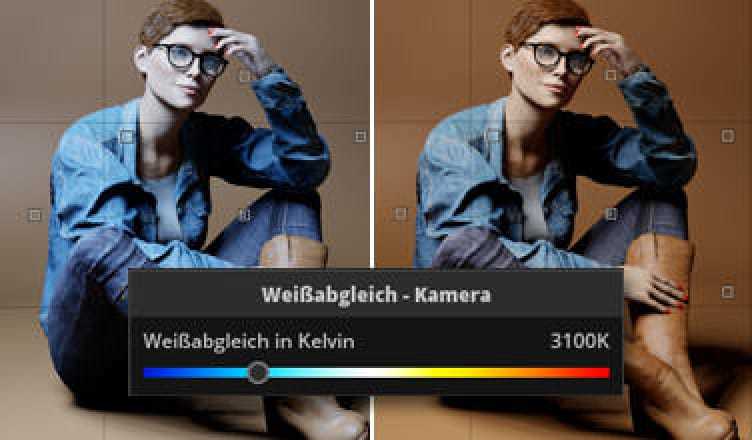 White balance & kelvin numbers
Finally, color temperatures of the light sources are adjustable in kelvin. The white balance can be adjusted at the camera.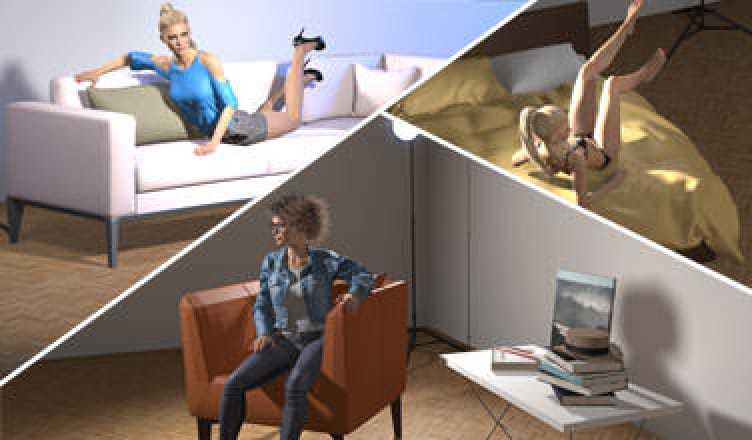 3D content, interieur
V2 will be even more extensive and comprehensive when it comes to interior. We added a big bunch of new furniture, reaching from sofas and chairs to tables and lots of other things. They're not only more beautiful, but will help you to reconstruct your studio or living room etc. in detail.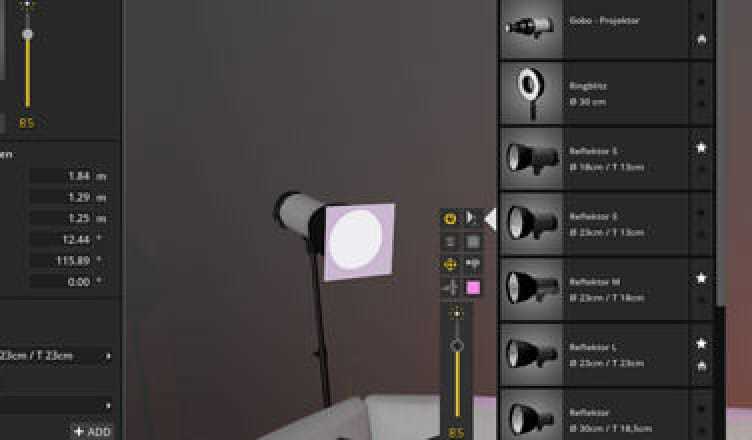 Menus – directly in the virtual studio
Several changes can be made directly at the flash inside the studio now. Just one click away, in the revised settings panel, you can change the light shaper, add a honeycomb grid or swap a flash head. With this small but powerful feature we can further optimize your workflow.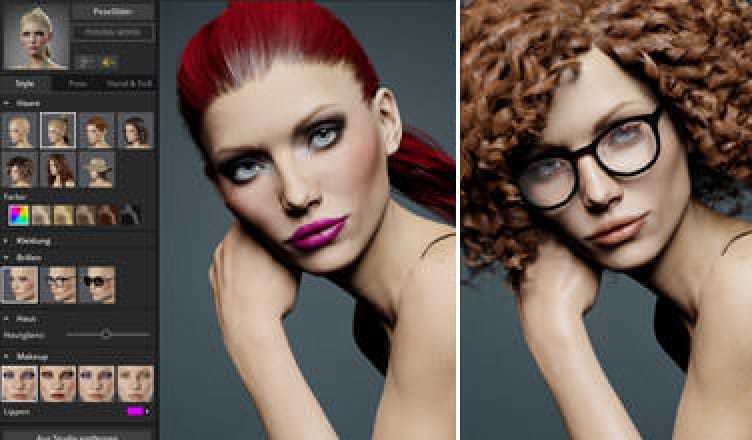 Edit make-up
The make-up doesn't fit to the desired look? V2 has different make-up styles to choose from. The "glow" of the skin can be adjusted precisely as well.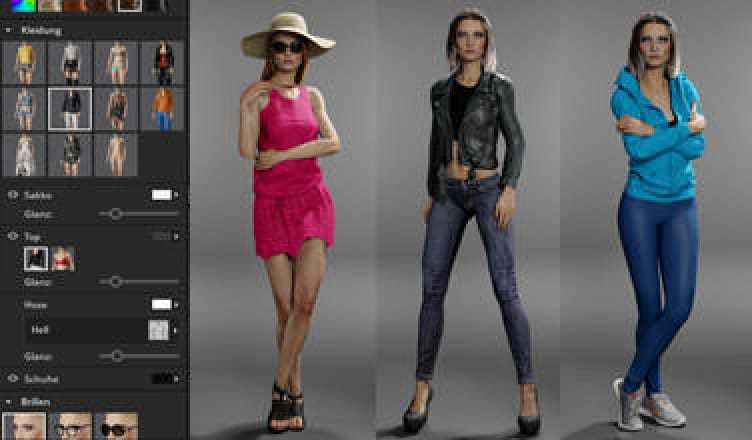 More freedom with flexible styling
More clothing, new effects – sexy lingerie, hip casual clothes or precious business outfits. Colour the clothes according to your ideas and customise the look for you. You can even change the textures of selected clothes.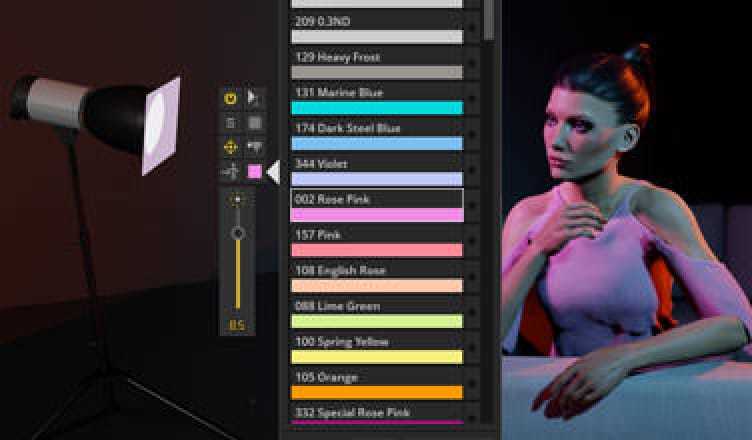 Color gels by Lee
About 40 of the most popular foils of the famous company Lee found their way into the software – just for more simple and detailed planning. This includes filters for CTO and CTB.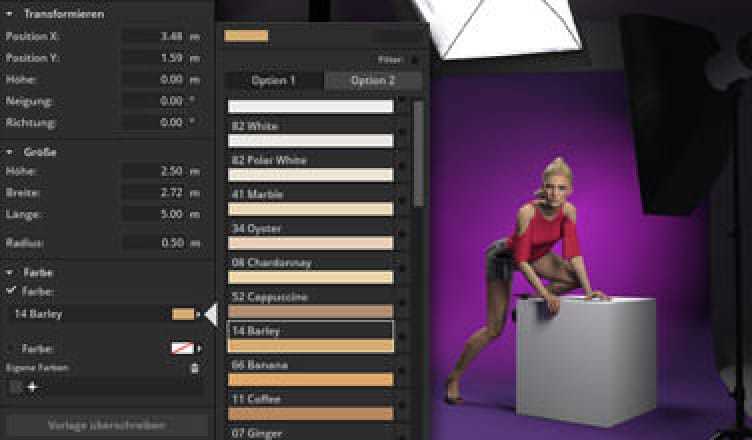 New paper backgrounds from Savage and Colorama
Not only for the color foils, but also in terms or the paper backgrounds there is some big news. We have an expanded variety of them, while setting the correct color is now even easier. The labels of the two biggest and most important companies Colorama and Savage are integrated, but there's always the option of choosing an own color as well.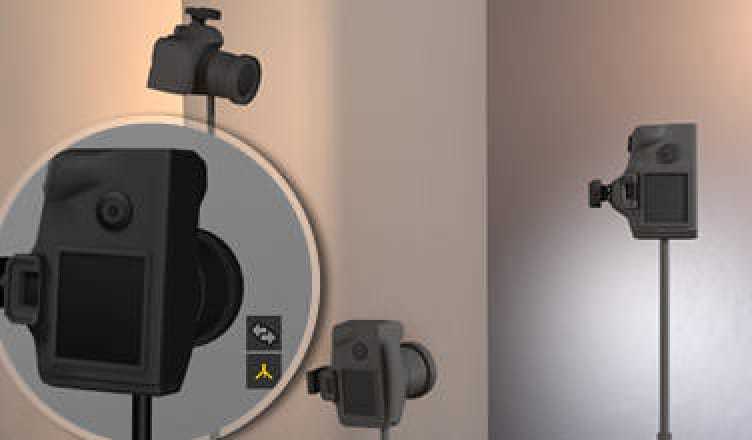 Multicamera
Start working with several cameras at the same time – an important factor for the video industry and in interviews. You were able to put of more than one camera, but they weren't active and more of a decoration thing… This changes now! With only one button you can switch between several cameras to check on your lighting from different perspectives – without having to always move around the same odd camera.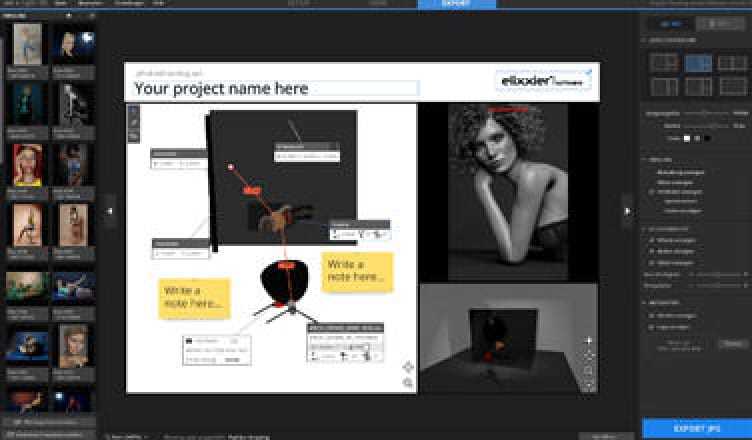 Better setplan export
Setplans can be designed individually. A title and notes can be inserted and even the own logo can be put onto the plan. All of this is made possible with the new export function.
"We had a vision – creating a tool that supports photographers in their daily workflow, whilst as well extending their opportunities to realize creative ideas, while being as intuitive as possible. The idea for set.a.light 3D was born in our own photo studios, where trying out or explaining concepts and being creative had mostly been a strenuous and sweaty work."

Ready to get going?
Thousands of photographers and studios all around the world already trust in set.a.light 3D.
Start now with the #1 tool for photographers – without any yearly fees or monthly subscriptions.
For Mac and Windows

Experience lighting virtually just like in the real studio.
With set.a.light 3D the perfect picture is no coincidence anymore.