Export objects (*.myassets)
Objects located in "My Library" can be exported individually or as a selection (multiple selection).
This way you can share your objects with other set.a.light 3D users, for example.
Note: You cannot export objects to use them in other 3D programs. This is a set.a.light 3D internal data format.
This is how it works:
Select the desired object or select multiple objects by holding down the CTRL key. Then click on the export icon on the left.
In the file browser you can enter a name and save it. The file extension is *.myassets.

You can give this file e.g. to other set.a.light 3D owners, so that they can import your objects. This is especially important if you give someone a setup (*.set file) in which you have used your own 3D objects.
Own 3D objects are NOT embedded in a *.set file!
It is also possible to export and save the entire library (See below: Back up My Library).
Import objects (*.myassets)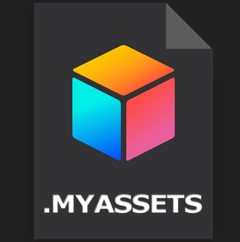 If you want to import a *.myassets file, click on the white import icon (see above) on the far left in "My Library". In the now open file browser you can select and confirm the *.myassets file.
If there are objects in the *myassets file that are already in "My Library", you will get a hint and can decide if you want to update the existing objects or leave them untouched. Only non-existing objects will be added to your library.
Back up My Library
You can also export and backup your entire library. This is useful, for example, if you want to move the installation to a new computer.
Click on "File" -> "Export my library". All objects will be exported into a *.myassets file.
Note: you can also pass on this entire library.